af Karsten Jørgensen
Neil Youngs mest populære soloalbum nogensinde, "Harvest", udkom i 1972 og endte på førstepladsen af både den amerikanske og den engelske hitliste.
Og i anledning af 50-års jubilæet, genudsendes "Harvest" i dag i en deluxe-udgave, som består af 3 cd'er og 2 dvd'er.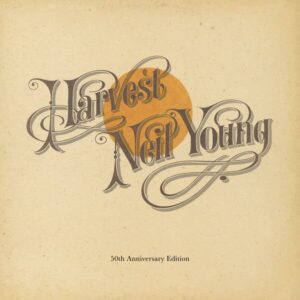 "Harvest" blev produceret af Elliot Mazer, og størstedelen af pladen indspillede Young med musikerne Ben Keith, Tim Drummond, Kenny Buttrey og Jack Nitzsche, som fik navnet The Stray Gators. Hist og her var der også bidrag fra gæstesangere som Linda Ronstadt og James Taylor, på singlen "Heart of Gold", der var en kæmpesucces og ligesom albummet blev nr. 1 i USA.
Den nye "Harvest"-boks har det oprindelige album fra 1972 på cd 1, mens de øvrige to cd'er indeholder henholdsvis en solo-liveoptræden med Neil Young fra 23. februar 1971 på den første og studie-outtakes på den anden. Dvd 1 viser optagelser fra indspilningen af "Harvest", mens dvd 2 viser føromtalte liveoptagelse, som oprindelig blev lavet til BBC-serien "In Concert".
Deluxe-udgaven af "Harvest" udsendes også som en boks med 2 vinyl-LP'er, en 7" single og 2 dvd'er, og udgives 2. december af Reprise Records.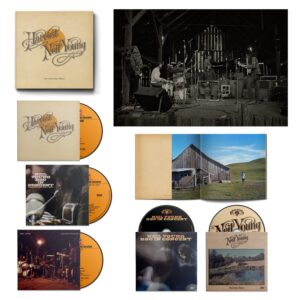 Trackliste for "Harvest":
CD 1: The Original Album
Out on the Weekend
Harvest
A Man Needs a Maid
Heart Of Gold
Are You Ready for the Country?
Old Man
There's a World
Alabama
The Needle and the Damage Done
Words (Between the Lines of Age)
CD 2: BBC In Concert: February 23, 1972 (previously unreleased)
Out on the Weekend
Old Man
Journey Through the Past
Heart of Gold
Don't Let It Bring You Down
A Man Needs a Maid
Love in Mind
Dance, Dance, Dance
CD 3: Harvest Outtakes
Bad Fog of Loneliness (previously released on Archives Vol. 1, Reprise 175292-2, 2009)
Journey Through the Past (previously unreleased)
Dance, Dance, Dance (previously unreleased in physical format)
DVD 1:
En 2 timers, hidtil uudgivet film om optagelsen af "Harvest".
DVD 2:
BBC In Concert: February 23, 1972 (previously unreleased)
(samme trackliste som CD 2).