af Karsten Jørgensen
Lige siden udgivelsen i 1973, har Neil Young haft et ambivalent forhold til albummet "Time Fades Away", en koncertoptagelse af lutter nye sange, hvor han blev akkompagneret af gruppen The Stray Gators, som bestod af garvede studiemusikere som Jack Nitzsche på keyboard, Ben Keith, steel guitar, Tim Drummond, bas, og Johnny Barbata på trommer. Endvidere er der flot korarbejde fra Youngs tidligere kolleger i supergruppen Crosby, Stills, Nash & Young, David Crosby og Graham Nash.
Turneen, som er foreviget på "Time Fades Away", var en follow-up til succesen det foregående år med den polerede "Harvest", som fik Youngs popularitet til at skyde i vejret med raketfart. Men livemusikken på "Time Fades Away" var mere rå og mere ustruktureret, og faldt ikke altid i god jord hos et publikum, som forventede hitsange som "Heart of Gold".
Senere lagde Neil Young afstand til pladen, som han i et interview i 1987 kaldte for "min værste plade nogensinde – men som en dokumentation af det, der skete med mig dengang, var den okay".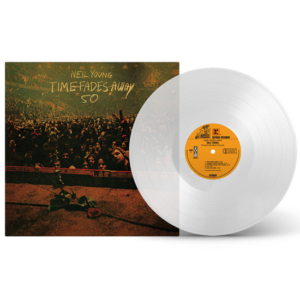 Den 15. oktober var det 50 år siden "Time Fades Away" udkom første gang, og i den anledning bliver albummet, nu med titlen "Time Fades Away 50", genudsendt på Reprise Records den 3. november, i et begrænset oplagt, trykt på gennemsigtig vinyl.
Pladens oprindelige otte sange er nu suppleret med et bonus-nummer, "The Last Trip to Tulsa", som kun blev udgivet som B-side på singlen i 1973 med albummets titelsang.
Årsagen til, at "Time Fades Away" i jubilæumsudgaven kun kommer som vinyl, er, at pladen blev udsendt på cd så sent som i 2017.
Trackliste til "Time Fades Away 50":
Side A:
01. Time Fades Away
02. Journey Through the Past
03. Yonder Stands the Sinner
04. L.A.
05. Love in Mind
Side B:
01. Don't Be Denied
02. The Bridge
03. Last Dance
04. The Last Trip to Tulsa