af Karsten Jørgensen
Efter knap ti år på Hear Music skifter Paul McCartney pladeselskab igen. Og overraskende nok er det tilbage til Capitol Records, selskabet som oprindelig udsendte Beatles-pladerne i USA tilbage i 1960'erne.
I England var The Beatles knyttet til Parlophone Records, et datterselskab i EMI-koncernen, men i guds eget land landede rettighederne hos Capitol Records, som udsendte de primære albums og singler med The Beatles fra "Meet The Beatles" i 1964 til "Magical Mystery Tour" i 1967. Herefter dannede The Beatles deres eget pladeselskab Apple, men fik dog stadig distribueret pladerne gennem Capitol.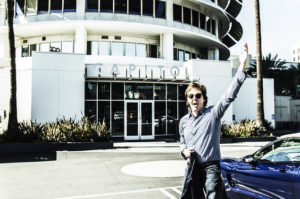 McCartney foran Capitol-bygningen i Los Angeles
Paul McCartneys soloplader efter opløsningen af The Beatles blev også distribueret af Capitol, indtil 1979, hvor han skiftede til Columbia, som udsendte det sidste Wings-album "Back To The Egg" og McCartneys soloplader indtil midten af 1980'erne. Fra "Press To Play" (1986) var han tilbage på Capitol og blev her indtil "Chaos And Creation In The Backyard" i 2005.
I 2007 indgik han kontrakt med det Starbucks-ejede Hear Music, som siden har udsendt tre studiealbums med McCartney: "Memory Almost Full", 2007, "Kisses On The Bottom", 2012, og det foreløbig seneste "New" fra 2013. Hertil kommer også flere deluxe-genudgivelser fra bagkataloget, samt opsamlingspladen "Pure McCartney", som udkom tidligere i 2016.
Efter McCartney, som var den første kunstner på Hear Music, fik selskabet vokseværk og skrev også kontrakter med bl.a. Joni Mitchell, Carly Simon, James Taylor og Elvis Costello. Hvad årsagen er til, at McCartney nu forlader Hear Music kendes ikke.
Paul McCartney er i gang med indspilningen af et nyt album, som måske/måske ikke udkommer senere i 2016, og det bliver hans første udgivelse under den nye kontrakt med Capitol Records, som også kommer til at stå for genudgivelsen af resten af McCartneys gamle albums i deluxe-versioner. Capitol er i dag en del af Universal Music Group.